Qualatex 24

Alongside Unique 12" for comparison

Mold type

Color sets

Standards
Crystals
Pastels
Metallics

Overall

Size and shape

Latex quality

Reliability

Durability
The Common Loon's review
Overall comments
When they were introduced last year, they were the biggest thing (in more ways than one) to hit balloondom for a long time, and deservedly so. You owe it to yourself to experience the "Q24" at least once, but preferably more than that!
Size and shape
It doesn't take a balloon enthusiast to appreciate the utter hugeness of these balloons. The orange Q24 at right is nowhere near full inflation (the body still has plenty of room!). The body itself can measure 24 inches, and the neck can be blown to incredible length and girth, if you're brave enough. The neck and lip are very wide, almost too wide to allow inflation by mouth.
Latex quality
The colors are perfect and even and the balloons are double-dipped so their strength is unsurpassed. Curiously, though, the drip point seen on most balloons is nearly absent on these monsters. Defects are rare.
Reliability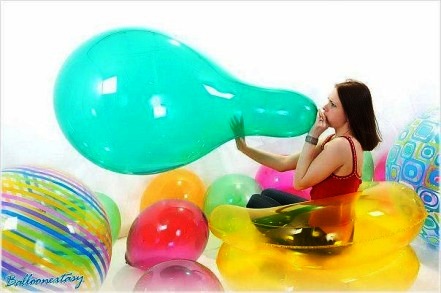 It takes a lot to push the limits of these Qualatexes, so for almost all uses they are perfectly safe. The necks are huge, giving you lots of time to turn back, and they're incredibly difficult to blow to popping due to their sheer size and thickness. As you might expect, they pop with an immense, chest-thumping boom. Be careful out there!
Community content is available under
CC-BY-SA
unless otherwise noted.