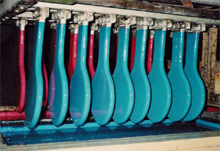 A
paddle mold
is a flat mold often used to manufacture larger balloons, typically rounds over 20 inches, zeppelins, and figurine shapes.
Paddle molded balloons, when inflated, are typically not as wide in the "flat" direction as in the other direction, and may display two flute lines around the outside. Paddle molds are most commonly used by European balloon manufacturers, and are less frequently used by United States brands.
The very first latex balloons were created on flat cardboard molds by dipping by hand.
Historic examples of large paddle balloons include the original Qualatex giant balloon which was rated to inflate to 40 inches and was a round paddle balloon with a short fat neck. It was replaced by the current 4-flute design which inflated rounder but was rated at 36 inches.
This is a photo of a light blue Qualatex giant balloon in the flat paddle format on a mat with a 1 inch grid.
These particular balloons would easily inflate to 36 inches but often would inflate to 40 inches or even larger. 38 inches would have been a better rated size for balloons made on this mold.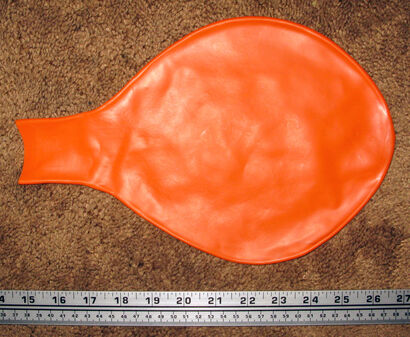 Another historic example is the "Neckless Wonder" a type of giant balloon made on a paddle mold but which did not have its neck rolled into a nozzle at all. The neckless wonder was very difficult to inflate by mouth without some kind of inflation assisting adapter or by using a tank or an air pump.
This photo is an example of an orange neckless wonder. 
Often paddle balloons had quite short necks in the larger sizes to facilitate getting them off the molds. When pear shaped with a gradual taper at the neck end such balloons would inflate typically until the neck virtually disappeared and without some kind of inflation adapter you could not inflate them any bigger because there was nothing left to hold on to.
This is an example of a rather typical red giant paddle balloon which is pear shaped and sports a quite short neck.  This one was rated to inflate to 27 inches at its widest point.